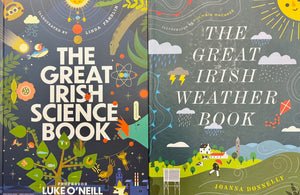 Set of 2 Irish Great Irish Science and Weather books
Gill Books
Regular price €19.99 Sale
Code No. : NF131
Author : Luke O'neill and  Joanna Donnelly
Publisher : Gill books
Book Type :  Set of 2 Science and technology Books 
Size : 277mm x 367mm
Description : 
The Great Irish Science Book
Join Professor Luke O'Neill on the greatest journey of them all. From the very big to the very small – vast galaxies to microscopic atoms - travel through the wonders of the universe, the mysteries of the human body, and the tiny world of molecules. Discover the Irish scientists that have helped to shape our world and find out how to become one yourself.

How do we measure the universe? Why do we need plants? How do our bodies repair themselves when we are ill? What species will exist on earth in a million years' time? Discover the answers to these questions and a lot more in this thrilling and engrossing book packed with fascinating phenomena, vibrant illustrations, experiments you can do yourself, and heaps of fun facts.

The Great Irish Weather Book
Contains everything you've ever wanted to know about the weather. Beautifully illustrated by Fuchsia MacAree, and containing lots of interesting facts and experiments, this is a book that every curious child will love.
RRP : €49.98
Our Price : €19.99