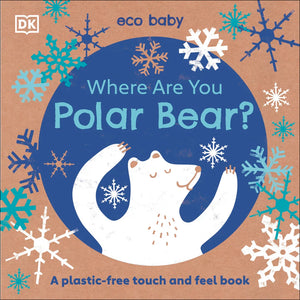 Where are you Polar Bear?
Bags of Books
Code No. : BB526

Author : 

Publisher : DK Books

Book Type :  Eco baby plastic free touch and feel board book

Size : 200 mm x 200 mm

Description :
Explore the icy Arctic and search for Polar Bear in this plastic-free touch and feel book. You'll get to meet incredible endangered animals along the way!

Take your little cub on a journey through a frozen world to track down the elusive Polar Bear. Discover a whole host of incredible Arctic animals including seals, hares, and narwhals!

Is that Polar Bear swimming in the sea? No, that's Narwhal and her baby! Out on the ice, someone is having a snooze. That's not Polar Bear, it's Walrus and her sleepy friend. Your toddler will love meeting all of Polar Bear's friends in this adorable educational book.

Natural cardboard pages with colourful illustrations, fun corrugated elements, and cut out sections encourage little fingers to explore. Your child will learn how to describe and recognise the names of all the incredible Arctic animals they see!

Treasure story time with your little one! The simple text is ideal for reading aloud to little ones as you spot endangered animals in their natural habitat together. This encourages early language development and it's perfect for little learners who are just starting their reading journeys. There are lots of opportunities for parent-and-child interaction and hours of Arctic fun.

RRP: £7.99 (€9.58)
OUR PRICE: €5.99