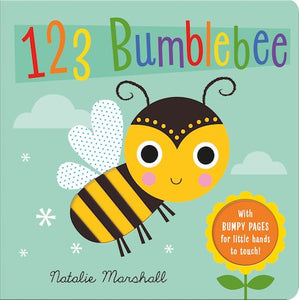 123 Bumblebee
Scholastic
Code No. : BB518

Author : Natalie Marshall

Publisher : Scholastic

Book Type :  Board Book

Size : 190 mm x 190 mm

Description :
With bumpy pages that toddlers will love to explore, the Find and Feel books aid speech development, learning through repetition and hand-eye co-ordination.

Little fishy has five scales, watch him swim and flick his tail.Six black whiskers on cat's nose, sticking out in nice, straight rows.

Perfect for very small children, these brand-new books combine simple rhyming stories with tactile, bumpy pages and eye-catching artwork by Natalie Marshall. With a focus on first concepts, repetition and high-contrast design, the stylish Find and Feel books are specially made to help children have fun while they learn their first words.
RRP : £6.99(€8.38)

Our Price : €4.99