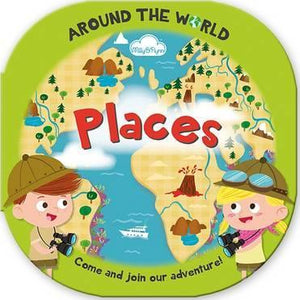 Around The World: Places
Bags of Books
Code No. : BB503

Author : Moira Butterfield

Publisher : Milly & Flynn Books

Book Type :  Board Book

Size : 210 mm x 210 mm

Description :
It's never too early to go global and learn about our amazing planet.

This charming book gently introduces children to an array of natural features from around the world, and to the conditions and creatures that can be found there.

The repeated search-and-find "Can you see what I saw?" line encourages even the youngest reader to get involved and interact.

Before you know it, your little pre-schooler will have a wealth of worldly know-how.

So, zoom around the world with your binoculars and see what you can spot together.

From Colourful coral reefs to snow-capped mountains, peaceful riverbanks to raging volcanoes - a whole world of amazing places is waiting for you.

This fun board book is perfect for little globetrotters with a thirst for adventure.

Other titles in the series include Around the World Weather and Around the World Animals.

Suitable for children aged 2 plus.
RRP : £5.99(€7.18)

Our Price : €4.49