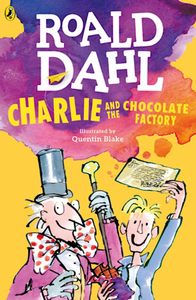 Charlie and the Chocolate Factory
Puffin
Code No. : PB129
Author : Roald Dahl
Publisher : Puffin
Book Type : Paperback Fiction
Size : 129mm x 198mm
Description : 
Mr Willy Wonka is the most extraordinary chocolate maker in the world.
And do you know who Charlie is? Charlie Bucket is the hero. The other children in this book are nasty little beasts, called: Augustus Gloop - a great big greedy nincompoop; Veruca Salt - a spoiled brat; Violet Beauregarde - a repulsive little gum-chewer; Mike Teavee - a boy who only watches television.
Clutching their Golden Tickets, they arrive at Wonka's chocolate factory. But what mysterious secrets will they discover?
**Check out the second instalment, Charlie and the Great Glass Elevator
Age : 8 Years and Up
RRP : £6.99(€8.00)
Our Price : €3.75