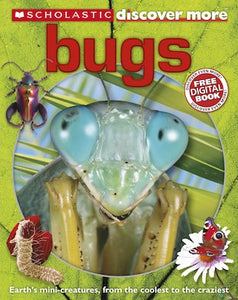 Discover More: Bugs
Scholastic
Code No. : NF132
Publisher : Scholastic
Book Type : Non Fiction Book
Size : 200mm x 250mm
Description : 
Fun from our flagship fact series. We got inspired by the internet and thought: what if we could make fact books as cool as the web? Discover More is what we came up with. Books you can browse through: stepping through pictures frame by frame, or picking up quick facts and tidbits. Each book even comes with a free digital book full of activities and extras. Now creepy-crawlies are in line for our unique series treatment. A close-up look at bugs galore, from pretty butterflies to scuttling spiders. There are bugs that can kill with one bite – and bugs that might one day save our planet. Yikes!

A close-up look at bugs from a bestselling series
Kids love Discover More and give it great reviews
Free digital book with activities, games and extras
This second series tier is ideal for confident readers.
Age:  7-10 years
RRP : £7.99(€9.58)
Our Price : €4.99