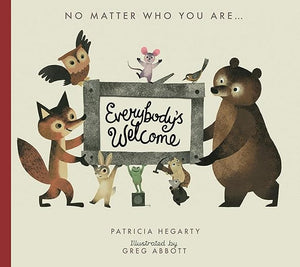 Everybody's Welcome
Little Tiger Press
Code No: BB558
Author : Patricia Hegarty
Publisher : Little Tiger
Book Type : Board Books

Size :  190 x 170 mm
Description :
Wouldn't it be great if you could build a home that opened its doors to everyone – tall or short, fat or thin, rich or poor…

Well, perhaps if everybody pitches in to help, one little mouse can achieve that dream. This heart-warming story is brought to life with clever die-cuts and playful illustrations.b


An easy-to-read story book that is filled with beautiful illustrations of a mouse and other woodland friends embarking on a journey to build a home together. With simply written rhymes, this picture book teaches friendship, acceptance and the importance of diversity.
RRP: £6.99 (€8.35)

Our Price: € 4.99