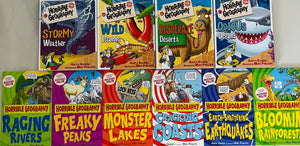 Horrible Geography Pack x 10
Scholastic
Regular price €29.99 Sale
Code No. : PB503
Author : Anita Ganeri
Publisher : Scholastic
Book Type : Book Collection
Size : 150mm  x 190mm
Description : 
The fantastic "Horrible" series returns with another 10 books, giving the most gruesome and horrible facts about Nature. Explore the depths of the Oceans and the Highs of Volcanoes. Packed full of great cartoons, facts and quizzes! The 10 Titles included in this pack are: Odious Oceans, Bloomin' Rainforests, Stormy Weather, Raging Rivers and Monster lakes, Cracking Coasts, Freaky peaks, Earth Shattering Earthquakes, Wild Islands, Desperate Deserts!
RRP : £63.90(€76.68)
Our Price : €29.99
* DON'T FORGET!*
ORDERS OVER €40 USE DISCOUNT CODE: BOOKS20 for 20% off your order
ORDERS OVER €100 USE DISCOUNT CODE: SPECIAL30 for 30% discount off your order.