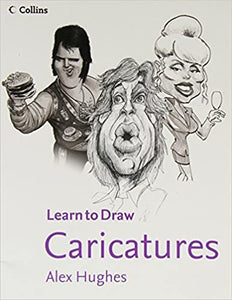 Learn to draw: Caricatures
Bags of Books
Code No. : AC187
Author: Alex Hayes
Publisher : Collins
Book Type : How to draw Book
Size : 210mm x 280mm
Description :
Drawing caricatures has always been popular and this book makes it simple and enjoyable. All the fundamentals are covered, to give the reader a sound foundation in caricature drawing techniques, with many step-by-step illustrations demonstrating how to put them into practice. The book includes accessible and practical information on:
• Tools, equipment and props
• Basic shapes and proportions
• How to portray personality, features and expressions
• Working from photographs
Perfect for total beginners, Learn to Draw Caricatures will also be valuable for experienced artists seeking to improve their caricature drawing skills.
Age: 10 to adult
RRP : £8.99(€10.78)
Our Price : €5.99