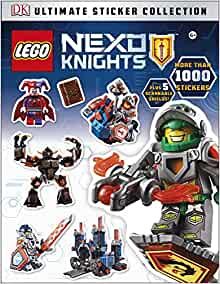 Lego: Nexo Nights
Bags of Books
Code No: AC182

Publisher : DK Books

Book Type :  Sticker Book

Size : 220 x 280mm
Description :
Jump into the futuristic realm of LEGO® NEXO KNIGHTS™! This action-packed sticker book includes more than 1,000 LEGO NEXO KNIGHT stickers.
In the LEGO NEXO KNIGHTS Ultimate Sticker Collection, learn how Aaron, Axl, Clay, Macy and Lance stop the villainous Jestro and his band of lava monsters from taking over the Knighton. Create your own LEGO sticker scenes within the exciting realm of Knighton. Learn what it takes to graduate from Knights' Academy. Go on thrilling quests and engage in heroic battles against beastly, magical monsters.
Featuring scannable toys-to-life content and packed with awesome stickers, this fun LEGO NEXO KNIGHTS sticker book is a must-have for young heroes everywhere!
LEGO, the LEGO logo, NEXO KNIGHTS, the Brick and Knob configuration and the Minifigure are trademarks of the LEGO Group. © 2016 The LEGO Group. Produced by Dorling Kindersley under licence from the LEGO Group.

RRP: £7.99 (€9.58)

Our Price: €3.99