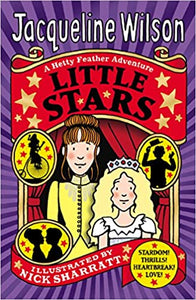 Little Stars: A Hetty Feather Adventure
Penguin Publishing
Code No. : PB178
Author : Jacqueline Wilson
Publisher : Penguin Books
Book Type : Paperback Fiction
Size : 130mm x 200mm
Description :
Hetty and Diamond quickly become the Little Stars of Mrs Ruby's show, alongside many colourful acts – including an old friend from Hetty's past, Flirty Bertie. But the Cavalcade proves a dangerous place, and Hetty must fight to protect her darling Diamond, who longs for a normal childhood. Meanwhile, Hetty struggles to understand her feelings for Bertie – and for Jem, whom she has never forgotten.

Hetty dreams of a glittering future for herself and Diamond. The bright lights of the London theatre world beckon – will Hetty become a true star?

Starring a cast of wonderful characters, both old favourites and new, this is the fifth fabulous Hetty Feather story.
RRP : £6.99(€8.05)

Our Price : €3.50