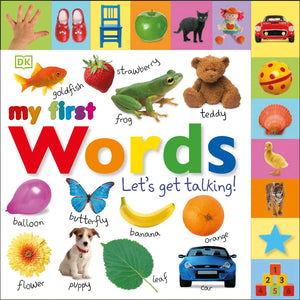 My First Words
Bags of Books
Code No. : BB532

Author : 

Publisher : DK Books

Book Type :  Tabbed Board Book

Size : 220 mm x 220 mm

Description :
Teaching your little one their first words is as easy as A B C with this fun board book!

Jump-start your toddler's ability to communicate and talk! Packed with fun-filled pictures, things to name, and simple questions and activities. This engaging pre-school book is creatively designed to help your kids find their first words.

Can you spot the fluffy teddy bear? Where is the fluttering butterfly? From toys and farm animals to shapes and things that go. Your child will love pointing to and naming the different objects. This is the perfect first-word book for any curious toddler.

This activity book has strong board pages made especially for young children. The chunky tabs, on the top or the side, are easy to grab to help with early motor control. Pre-schoolers will quickly recognise the colourful objects on the tab which will take them straight to the pages they love.

Each section of this educational book is dedicated to a different theme, such as pets, seaside, or fruits. There are easy to read labels so your little one can sound out the words with you. Read the fun text together and help your little ones develop their speaking, listening, and observational skills as they learn to identify objects. This adorable picture book is the perfect way to introduce babies and toddlers to speaking and listening. It will also boost their language development.

 RRP : £6.99(€8.38)
OUR PRICE: €5.99