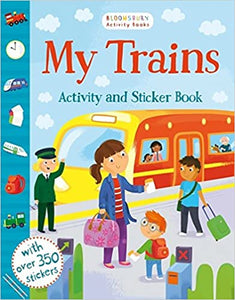 My Trains Activity & Sticker Book
Bags of Books
Code No. : AC214
Publisher : Bloomsbury Publishing
Book Type : Colouring and Activity Book
Size : 230mm x 280mm
Description : 
All aboard! Hop on board your first train with this fantastic activity book, bursting with different activities to complete and colourful stickers that you can collect.

Pack a lunchbox for the journey, work your way through the town maze to reach the train station, spot the matching trains in the station and much more!

Bloomsbury Activity Books provide hours of colouring, doodling, stickering and activity fun for boys and girls alike. Every book is filled with bright illustrations which children and parents will find very hard to resist. This book is perfect for providing entertainment for children at home and on the move!
RRP : £4.99(€5.75)
Our Price : €3.99