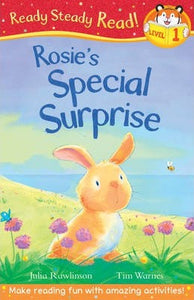 Rosie's Special surprise
Little Tiger Press
Code No. : ER140
Author : Julia Rawlinson
Publisher : Little Tiger Press
Book Type : Early Readers
Size : 140mm x 220mm
Description : 
Nosy Rosie likes to know everything about everything. So when Daddy Rabbit says he has a special surprise, she hops off to look for it. Whatever could it be?

Rosie's Special Surprise is from Level 1 of Ready Steady Read! a fantastic graded reading scheme with four reading levels from Little Tiger Press.

Ready Steady Read! makes learning to read fun. Each book contains games and activities to reinforce learning and test comprehension in a way developing readers will enjoy as well as handy parent notes from Prue Goodwin, Lecturer in Literacy and Children's Books. Level 1 is suitable for first readers. The stories will help build their confidence, opening up the world of reading and imagination to them.
Ages 5 - 6 Years.
RRP : £3.99(€4.78)

Our Price : €2.99