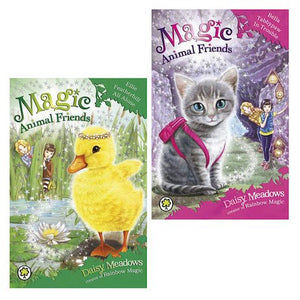 Set of 2 Magical Animal Friends books
Orchard Books
Code No. : PB187
Author : 
Publisher : Orchard Books
Book Type : Paperback Fiction
Size : 129mm x 180mm
Description :
Tiny talking fluffies from the Rainbow Magic author. Blissful tales with bonus puzzles to cosy up with. If you go down to the woods today, what will you find? Well – if you're very lucky and you read these books, you just might find some magical woodland animals! Visit their tiny cottages, solve enchanted mysteries and sip tea at the Toadstool Cafe. As perfect as a fairy tale. How lovely does that sound?

Created by Rainbow Magic author Daisy Meadows
Each book includes exciting bonus puzzle pages
Set in the woodland world of Friendship Forest
Charming series tales that build reading confidence
Not suitable for children under 3 years of age. Small parts.
Age : 5 - 7 year olds

RRP : £9.98 (€11.97)
Our Price : €4.99