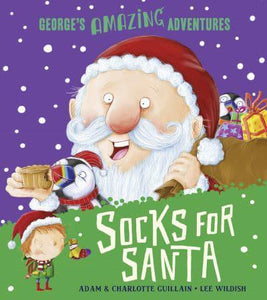 Socks for Santa
Egmont UK
Code No. : PS632
Author : Adam and Charlotte Guillain
Publisher : Egmont
Book Type : Picture Story Book
Size : 250mm x 250mm
Description :
Join George, a young and courageous explorer with the pluck of a little Indiana Jones, on a very festive quest - to find Father Christmas himself! A boy called George had a magical plan,One Christmas Eve, frosty and bright. As Santa brought presents to him every year,He'd take gifts to Santa that night ... This time George is heading to the North Pole to deliver lots of presents to Santa for a change!
But oh no - Santa and the elves are in trouble, and Rudolf has lost the light from his red nose!
Can George step up and save Christmas? Ideal for fans of Father Christmas Needs a Wee, Aliens Love Panta Claus and The Dinosaur that Pooped Christmas. Find more treats and daring feats in:Spaghetti with the YetiDoughnuts for a DragonPizza for PiratesTreats for a T.
RexSocks for SantaMuffins for Mummies Praise for the series:'A completely engaging and entertaining world' - The Bookbag Adam Guillain is a performance storyteller and was the Roald Dahl Museum and Story Centre Writer in Residence.
Charlotte Guillain is a prolific author of children's fiction, non-fiction and picture books, and together they have created the hugely successful George's Amazing Adventures series. Lee Wildish lives in Lancashire and has been illustrating from a very young age.
He loves illustrating children's books and thinks there's nothing better than seeing people laughing at a book he's illustrated.
His titles include The Spooky Spooky House which was the winner of the Red House Children's Book Award 2013, and the New York Times Bestselling How to Babysit a Grandpa.
RRP: £6.99 (€8.38)
Our Price : €4.49