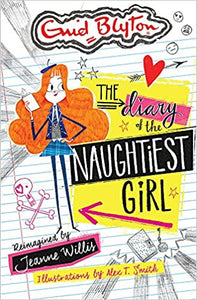 The Diary of the Naughtiest Girl
Hodder Children's Books
Code No. : PB223
Author : Jeanne Willis
Publisher : Hodder
Book Type : Paperback Fiction
Size : 129mm x 198mm
Description :
Mum says pupils aren't allowed to take mobile devices to Whyteleafe ... excuse me? It's the twenty-first century! What next? Ride to school on a penny-farthing?'

When Elizabeth Allen is packed off to boarding school, armed with nothing but a journal to write in for entertainment, she is NOT impressed. How will she survive without her home comforts, especially her pony Ross (the only boy she has ever truly loved)? Elizabeth comes up with a cunning plan: she will be so naughty that she gets sent home . . .

But then Elizabeth discovers a love for music and makes her first ever friend ... perhaps school life might not be as bad as she thought?

The Diary of the Naughtiest Girl is written by bestselling author Jeanne Willis and illustrated by Alex T. Smith, acclaimed creator of the Claude books.
AGE: 9-12 years
RRP : £6.99(€8.38)
Our Price : €4.49