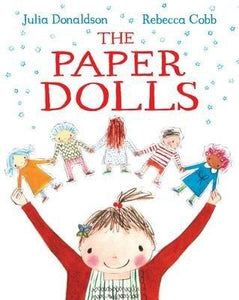 The Paper Dolls
MacMillan
Code No. : PS257
Author : Julia Donaldson
Publisher : Macmillan
Book Type : Picture Story Book
Size : 225mm x 280mm
Description : 
The Breathtakingly beautiful story of one little girl and her five paper dolls. They were Ticky and Tacky and Jackie the Backie and Jim with two noses and Jo with the bow.
"Gets richer every time you look at it.. a book that works like magic." - The Sunday Times
Julia Donaldson teams up with Rebecca Cobb in this delightful tale. It follows a young girl who uses her imagination to create different scenario's to play with her paper dolls. The ending teaches us that even if something is gone, it lives on with us in our memories! Check out our other Julia Donaldson titles!
RRP : £6.99(€8.05)