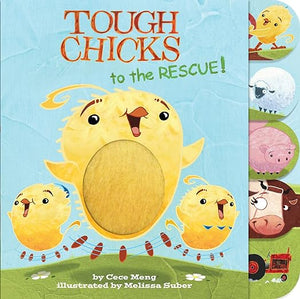 Tough Chicks: To the Rescue
Bags of Books
Code No: BB564

Author :  Cece Meng

Publisher : HMH Books

Book Type :  Tabbed  Touch and Feel Board Book

Size : 190 x 190 mm

Description :
Meet the strong and smart Tough Chicks in this tabbed, touch-and-feel board book. An inspiring and empowering book for little hands.
When the smart and strong Tough Chicks hear there's a problem to solve on the farm, they are ready to spring into action! Lulu the Cow is missing--but not for long. Little hands can pet the fuzzy chick, pat the woolly sheep, ogle the shiny binoculars, touch the sticky farmyard mud, and feel the smooth rubber tractor tires as the chicks unravel the mystery of missing Lulu. Who can come to the rescue? Tough chicks!

RRP: €9.99

Our Price: € 4.99