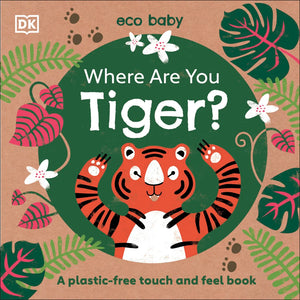 Where are you Tiger?
Bags of Books
Code No. : BB526

Author : 

Publisher : DK Books

Book Type :  Eco baby plastic free touch and feel board book

Size : 200 mm x 200 mm

Description :
Search the tropical jungle for Tiger in this plastic-free touch and feel book. You'll discover beautiful endangered animals along the way!

Welcome to the jungle! Let your little explorer take a journey through the hot and steamy forest to track down the rarely sighted Tiger. Say hello to elephants, rhinos and orangutans in their natural habitat. But where could Tiger be?

Is Tiger by the river? No, that's Elephant. Can you hear squawking coming from the treetops? Tigers don't squawk, that's Parrot. Only on the last page, will Tiger reveal himself. Your toddler will love meeting all of Tiger's friends in this imaginative educational book.

Natural cardboard pages with colourful illustrations, fun corrugated elements, and cut out sections encourage little fingers to explore. Your toddler will learn how to recognise the names and describe all the incredible animals they see in the jungle.

Treasure story time with your little one! The simple text is ideal for reading aloud to little ones as you spot endangered animals in their natural habitat together.. There are lots of opportunities for parent-and-child interaction and hours of wild, jungle fun!

RRP: £7.99 (€9.58)
OUR PRICE: €5.99