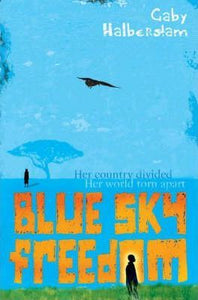 Blue Sky Freedom
MacMillan
Code No. : PB198
Author : Gaby Halberslam
Publisher : Macmillan
Book Type : Paperback Fiction
Size : 129mm x 198mm
Description :
You just don't get it, do you Victoria? These people are ruthless. I don't care what they do to me, but no one else must be harmed.'

When Victoria's friend Maswe appears at her door, badly beaten and begging for a place to hide, she agrees to help. Soon the police are searching the house and watching Victoria's family. What has Maswe done? Victoria would do anything to keep him safe, even undertake a dangerous journey, to carry a vital message to the ruthless resistance leader Godiva. But while Victoria's feelings for Maswe deepen he is impatient to return to his dangerous activist's life and the fight for freedom . . .

BLUE SKY FREEDOM is set in South Africa in the 1970's - it is a story of love, loss and courage set against the backdrop of South Africa in the grip of apartheid.
Age: 9-12 years

RRP : £5.99(€7.18)
Our Price : €4.49