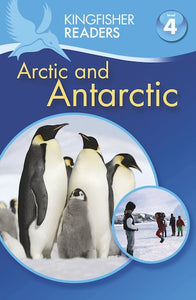 Kingfisher Readers: Arctic and Antarctic
Kingfisher Publishing
Code No. : ER171
Author : 
Publisher : Kingfisher
Book Type : First Reader
Size : 149mm x 240mm
Description :
Get inside a captivating topic with this Level 4 reader, which uses natural language and more complex sentences to stretch developing readers. Part of the beautifully designed and visually striking new Kingfisher series, this book challenges young learners that little bit further, stimulating them to progress in their solo reading while still feeling supported and enthused. Ideal for those who have progressed to reading alone without much help, it contains up to 100 words per page, boosting confidence and fluency while retaining interest with dynamic illustrations and a much-loved theme.
 Ages 7-9 years

RRP : £3.99(€4.78)
Our Price : €2.99