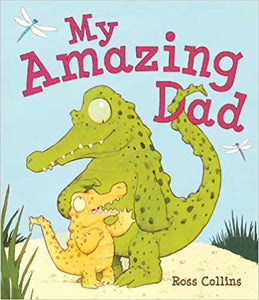 My Amazing Dad
Simon and Schuster UK Ltd.
Code No. : PS369
Author : Ross Collins
Publisher : Simon and Schuster
Book Type : Picture Story Book
Size : 230mm x 270mm
Description : 

Snip is a little crocodile who loves his dad. But when he realises he doesn't know what his dad DOES all day, he heads off with Max the monkey, in search of an answer. Snip soon discovers that his friends' dads can do all sorts of special things, and he wonders whether his own dad is good at anything. In the end, Snip's mum shows him that he has the cleverest dad of all - AMAZING!
The award-winning illustrator, Ross Collins, brings us this warm, funny tale of friendship and fathers, sure to charm children and dads alike.
RRP : £6.99(€8.35)
Our Price : €4.49