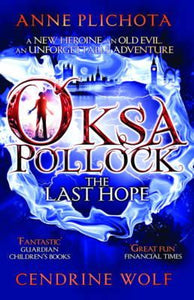 Oksa Pollock: The Last Hope
Bags of Books
Code No. : PB209
Author : Cendrine Wolf
Publisher : Pushkin
Book Type : Paperback Fiction
Size : 129mm x 198mm
Description : A thrilling new supernatural adventure series. Fuses the excitement, action and extraordinary worlds of Harry Potter, I Am Number Four and Buffy the Vampire Slayer with an inspirational new teen heroine.

Oksa Pollock is a normal thirteen-year-old girl, starting a new life in London. New lives, new friends, a new school and new adventures. But bizarre things start happening around Oksa she finds she can produce fire from her hands, move objects with her mind, and even fly.

Finally the truth emerges... her family fled Edefia, their magical, hidden homeland years ago. And more than that: Oksa is their queen... Oksa will be thrown into a wilder adventure than she could ever have imagined. She must triumph over her enemies. The whole of Edefia is counting on her.

Age : 10+ years
RRP : £7.99(€9.58)
Our Price : €4.49