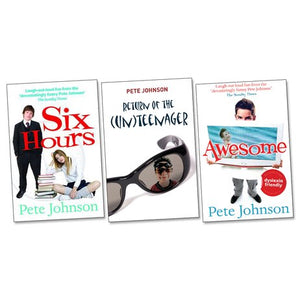 Pack of 3 Pete Johnson Fiction books
Bags of Books
Code No. : PB232
Author : Pete Johnson
Publisher : Barrington Stoke
Book Type : Paperback Fiction
Size : 129mm x 180mm
Description :
One brilliant author. Three short, snappy funnies that get you to the good bits faster. Laugh, cringe, enjoy – then finish up and do some of your other favourite things. Lots of people have cringey parents who try to look young. So we can easily sympathise with the red-faced hero of How Embarrassing is That? But what about the opposite scenario: an un-teenager who is, like, fourteen going on forty? These funny quick reads are great for any kid, but also have extra help for teens who find reading tough. Tell all your friends (especially the dyslexic ones) about them!

By the bestselling author of How to Train Your Parents
Pete has won the Young Telegraph Award and Brilliant Book Award
Built-in dyslexia support and help for struggling readers
Interest age: Teen. Reading age: 7.
RRP : £20.97 (€25.00)
Our Price : €9.99