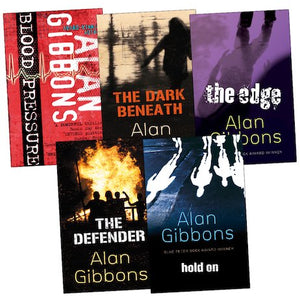 Pack of 5 Alan Gibbons fiction
Orion Children's Books
Regular price €17.99 Sale
Code No. : PB230
Author : Alan Gibbons
Publisher : Orion Book
Book Type : Paperback Fiction
Size : 129mm x 180mm
Description :
Tough reads that burn harder than a skateboard crash on gravel. Show your scars with pride: these hard-hitters are practically a rite of passage. Aidan's dad is a gangland drug dealer, out to regain his scrap of turf. Danny lives in fear of his mum's violent ex. Kate's best friend was bullied to suicide, and she needs someone to blame. And what about the Afghan refugee looking for a place to hide? Some people say these books are too tough for teens. We say: get real and face facts. This is exactly how some teens live each day. Captured in brave, brutal writing that'll bruise your soul.
Nail-biting writing by the million-selling Alan Gibbons
Alan's books include

 

Hate,

 

Raining Fire

 

and

 

An Act of Love
He won the Blue Peter Award for

 

Shadow of the Minotaur
"Alan Gibbons is a terrific writer" –

 

Guardian
This pack contains some mature content.
Age : 12 - 18 year olds

RRP : £34.95 (€41.94)
Our Price : €17.99