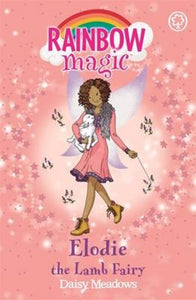 Rainbow Magic: Elodie the Lamb Fairy
Orchard Books
Code No. : PB851
Author : Daisy Meadows
Publisher : Orchard Books
Book Type : Paperback Fiction
Size : 147mm x 204mm 
Description :
Get ready for an exciting fairy adventure with the no. 1 bestselling series for girls aged 5 and up.

Kirsty and Rachel are going to the Fluttering Fairyland Farm to meet the Baby Farm Animal Fairies. But when nasty Jack Frost casts a spell on the fairies' special pets, farm animals everywhere start behaving very strangely! Can the girls help the Baby Farm Animal Fairies put things right?

'These stories are magic; they turn children into readers!' ReadingZone.com

Read all four fairy adventures in the Baby Farm Animal Fairies set! Debbie the Duckling Fairy; Elodie the Lamb Fairy; Penelope the Foal Fairy; Billie the Baby Goat Fairy.

If you like Rainbow Magic, check out Daisy Meadows' other series: Magic Animal Friends and Unicorn Magic!
Age : 5 to 9 Years Old
RRP : £4.99(€5.98)
Our Price : €3.99