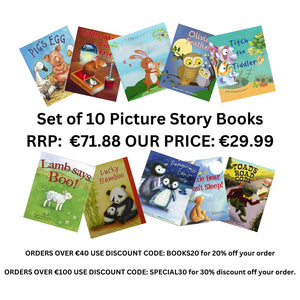 Set of 10 Picture Story Books
Bags of Books
Regular price €29.99 Sale
Code No. : PS661
Author : Various
Publisher : Alligator Books
Book Type : Picture Story Book
Size : 260mm x 215mm
Description :  Titles in this set
Titch the Tiddler
It's hard being the smallest fish in the reef, especially when the bigger fish won't play with you. But as Titch finds out, being small can be useful! This picture storybook full of fun, colourful illustrations is an ideal bedtime storybook to delight the young and the young at heart. 
Lamb Says Boo!
A charming story of bravery and having the confidence to stand up for yourself) Little Lamb wouldn't say boo to a goose. Or would she?... 
Lucky Bamboo
Little Panda lives in a bamboo thicket. Next door, is a beautiful garden where a Wise Old Panda lives. And in the middle of the garden grows a lucky bamboo plant. Little Panda can't help having just a small nibble to find out how it tastes.
Penguins Can't Fly
A delightful story about accepting and celebrating who you are. 
Quentin and Billy have known each other since they were eggs. But they are two very different penguins. When Billy is caught in a storm, and Quentin learns that penguins can't fly, they discover their true friendship.
Little Bear won't Sleep
Little Bear wants to stay up ALL night. So Little Bear and his mother go into the forest to see who else is awake. 
He meets an owl, a fox and makes lots of new friends, but staying up all night is not quite as much fun as he thought it would be... A wonderful little storybook with beautiful illustrations, perfect for bedtime reading.
Little Mouse finds A Friend
In this delightful picture book for children, you and your child can follow the story of Little Mouse, who is really hungry, but first needs to pass the farmhouse cat.
Toad's Road Code
When Toad goes to visit his cousin, he decides to take him a delicious cake to share for tea. But however will he get across that very busy road? What he needs is a toad rode code! A wonderful picture book with beautiful illustrations, a must for young children.
I Love you Honey Bunny
Mummy looks after Honey bunny and keeping her safe and happy is the most important thing in the world. A beautiful story of the love between mother and child.
Pig's Egg
Pig loved the farmyard, but sometimes he couldn't help feeling left out. Until one day, he laid an egg!" A wonderful tale about being yourself and allowing yourself to love." 
Olivia's Feathers
Olivia Owl wants to be just like her mummy, so she comes up with a plan. Soon she discovers that she would rather be herself, and that's just how her mummy loves her! A beautiful picture book perfect for storytime with your little ones. 
Age: 3-5 Years

RRP: £59.90 (€71.88)
Our Price : 29.99
* DON'T FORGET!*
ORDERS OVER €40 USE DISCOUNT CODE: BOOKS20 for 20% off your order
ORDERS OVER €100 USE DISCOUNT CODE: SPECIAL30 for 30% discount off your order.