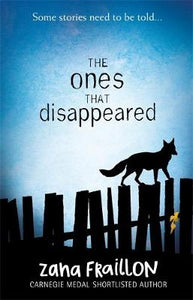 The Ones That Disappeared
Orion Children's Books
Code No. : PB224
Author : Zaha Fraillon
Publisher : Orion
Book Type : Paperback Fiction
Size : 129mm x 198mm
Description :
Trafficked children * Friendship and freedom * Sublime transformations

A poignant and poetic novel that gives voice to the oft-forgotten children imperiled to trafficking and slavery. Eleven-year-old Esra, storyteller Miran and six-year-old Isa have been enslaved by a gang. They're locked in a room beneath the house and must tend to The Jungle. "The tattoo on my arm… says I am owned", Esra explains, but she knows a different truth. She knows that no marks on her skin can say who she really is. "One day, I will be free", she resolves even as she's being beaten. There's a chance to escape, but Miran is too injured to do so. "With our souls tied together, we won't ever be apart", he whispers before urging Esra to flee with Isa. While Miran is hospitalised and captured by the police, Esra struggles to keep up her spirits. Then she and Isa form a bond with a "strange" boy named Skeet and together they make a man from the mud of the river. When Riverman takes on a life of his own, he might just lead them to the freedom they've been seeking.

I adored the author's previous novel, the hauntingly moving The Bone Sparrow, and this more than confirms her majestic writing skills, and a style that will surely be adored by fans of David Almond. By turns harrowing, heart-wrenching, and magical, this is an incredibly powerful - and incredibly important - novel.
AGE: 13+
RRP : £7.99(€9.58)
Our Price : €4.49